Kindle Fire and Kindle for Android received a new feature this week: Word Runner, a speed reading option for your Kindle books.
Like the Spritz app that made a splash in the media last year, Word Runner displays individual words in rapid succession. Instead of your eyes tracking across the page, they remain fixed on a single, central point. Lengthy words remain on the screen for a longer time, and natural breaks like paragraphs are marked by a pause.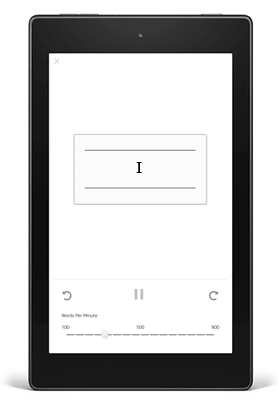 Display speed is configurable from 100 to 900 words per minute. Users can slow down, stop, or back up by pressing and holding the screen.
Currently, Word Runner is only available for English titles in Kindle Fire and the Kindle for Android app.
While the app can theoretically allow you to read Harry Potter and the Sorceror's Stone in under 90 minutes (or devour the entire Harry Potter canon in 20 hours), debates over the effectiveness of speed reading rage on. Proponents claim double or triple reading speeds. Critics point to poor comprehension and retention.
There's also speculation that a "treadmill for the eyes" may be of benefit to dyslexics, as it minimizes problems with fixation at the end of saccades.
For those with more books than time to read them, the promise of being able to absorb twice as many books is too good to ignore.
I'll be giving it a try, and I'll let you know how I fare in a future article. In the meantime, tell us about your experiences with speed reading and speed reading apps in the comments below.